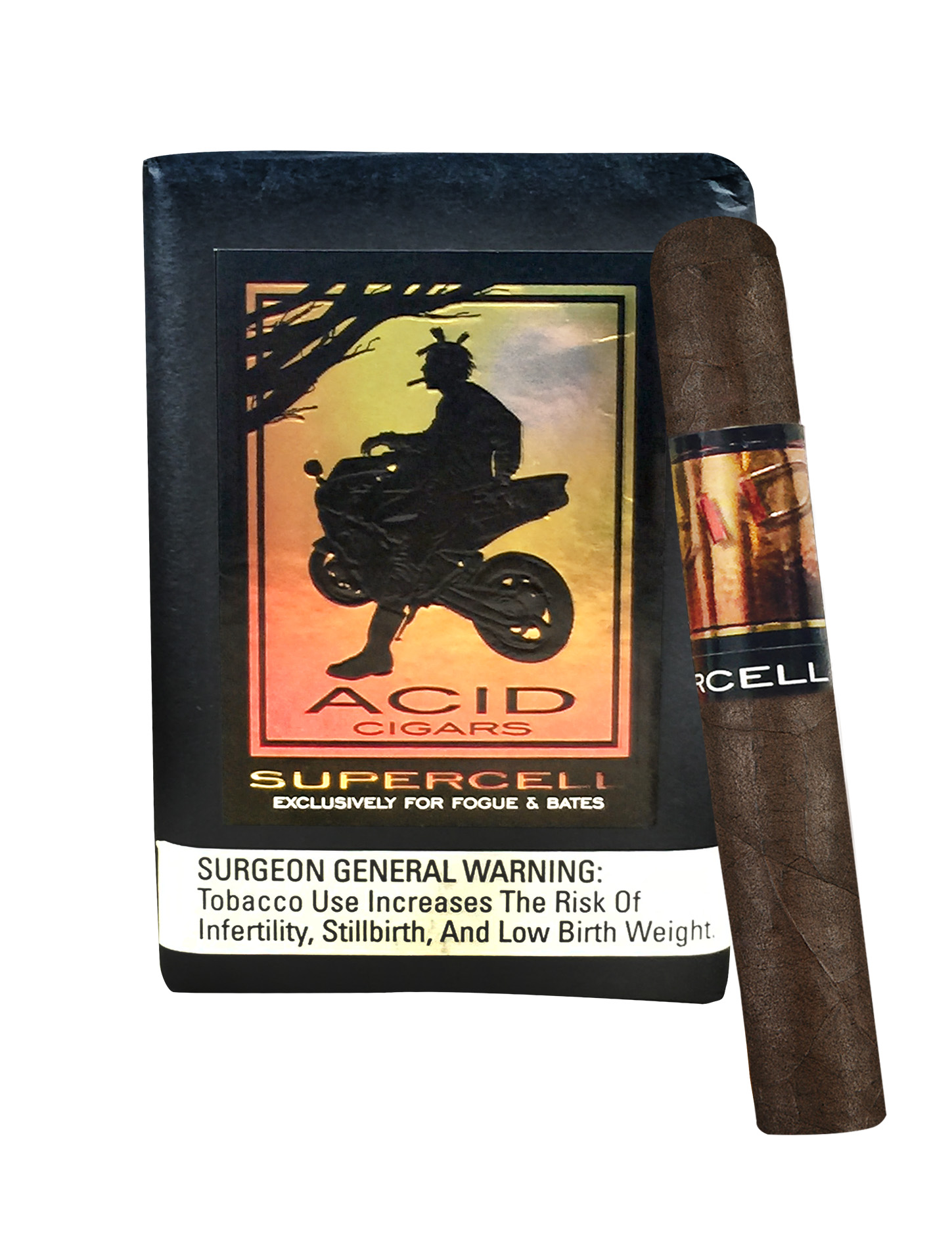 Miami, FL – Drew Estate will be releasing a new Subculture cigar for Fogue & Bates in Tulsa, OK, called ACID Supercell. The new cigar will be released at an in-store event at Fogue & Bates on November 19th, 2015. Supercell will be available exclusively at the Fogue & Bates retail shop.
The new ACID Supercell is presented in a 4 ¾ x 43 vitola, and the blend is based on the ACID Toast blend. ACID Toast has become a popular choice among ACID smokers who are looking for a fuller-bodied ACID cigar. The blend features a maduro wrapper from the San Andres Valley and has rich tobacco notes underlying the sweet taste of the ACID infusion.
When asked about the new ACID Supercell, Jonathan Drew said that, "James George at Fogue & Bates understands the ethos of Drew Estate. He has become a virtual extension of our vision, and drives it straight to consumers in the Midwest market. The new ACID Supercell has been meticulously created to honor James for everything he has added to our journey. The Supercell is stupid fresh. If you find yourself in Tulsa, definitely stop by Fogue & Bates. It's an awesome shop run by an awesome team that we call family. "
James George, owner of Fogue & Bates, commented that, "The Supercell project started four years ago, with the idea that the Toast is my favorite ACID blend. The one problem was that the larger size was sometimes too large for the occasion. Sometimes you just don't have an hour to commit to a cigar. From there, Supercell was born. After four years and several blend iterations, the Supercell blend is what we've landed on, and I'm extremely excited about it. My relationship with Drew Estate over the years has been a fantastic partnership, and I truly believe that Drew Estate is the most innovative company in the industry. I'm happy to be partnered up with them for Supercell."
To learn more about Fogue & Bates, call or visit their retail store at:
6929 East 71st Street
Tulsa, OK 74133
(918) 488-0818
To follow all of Drew Estate's news, follow them on social media at @drewestatecigar.
About Drew Estate
Founded in New York City in 1996, Drew Estate has become one of the fastest growing tobacco companies in the world. Under their mantra "The Rebirth of Cigars"TM, Drew Estate has led the "Boutique Cigar" movement by innovating new elements to the tobacco industry with their unique tobaccos and blending styles that have attracted new and traditional cigar enthusiasts. In their Gran Fabrica Drew Estate, the Nicaraguan headquarters, Drew Estate produces a variety of brands such as ACID, Herrera Estelí, Herrera Estelí Norteño, Kentucky Fired Cured, Liga Privada, MUWAT, Natural by Drew Estate, Nica Rustica, Nirvana, Pappy Van Winkle Barrel Fermented Cigars, Tabak Especial, Undercrown, and Java by Drew Estate.